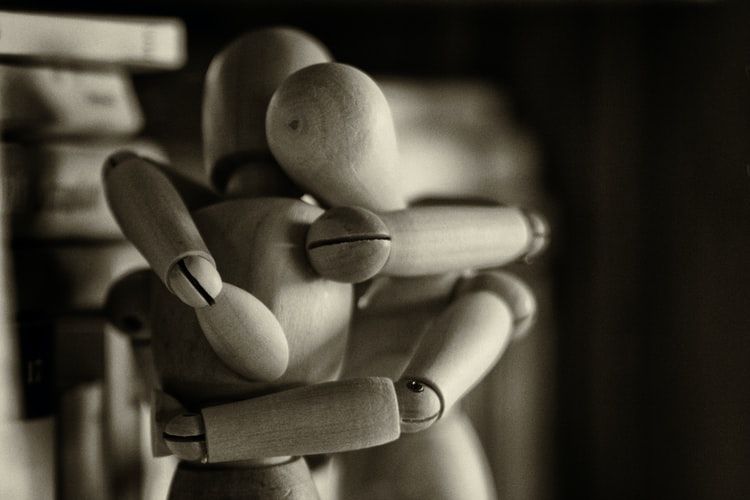 If one were to read Bessler van der Kolk's book, The Body Keeps the Score (2014), they would find an entire chapter is devoted to the practice of yoga and its effects on the brain and body. He points out how neuroscience has evidenced that one's brain is vitally connected to one's body. He quotes survivors and their experience of getting to know themselves again. They discovered for themselves how disconnected they were from their own bodies, how they had spent a lifetime trying to avoid sensations in their bodies, refusing to listen to what their bodies had to say. Trauma survivors (and substance users) become masters of dissociation, experts at avoidance, adept at cutting off the parts of them that feel. These strategies were, at one time, a necessary mechanism for survival. Over time, however, one completely loses the ability to become aware of what is happening inside of their own bodies.
It is through our senses that we engage with the world around us. How can someone know who they are if you do not feel? How can they take care of themselves if they have no idea what their body needs? Their safety is compromised if they cannot tell when a surface is burning hot, or when they are hungry. They cannot function if they cannot interpret information from the outside world appropriately. They cannot live in the world if they have severed their connection with it. They might feel isolated, disconnected, a sense of separateness. If they cannot experience the sense of touch, an essential part of their relationships with their loved ones may be missing. How can a person genuinely relate, empathize, connect with another human being if they cannot feel or be aware of what is happening inside of their own body? If they are constantly trying to ignore their own body, they are cutting off their own experience of being human.
The practice of yoga, and the cultivation of mind-body awareness, allows a survivor and a user to approach their bodies with a sense of curiosity, rather than fear. This process invites a person to rejoin their body in the present moment. It teaches them that bodily sensations can be tolerated, to sit with their experiences, and create new patterns of action. In yoga, we learn that sensations are transient, as we may hold a shape for a certain amount of time, counting down the seconds that we will hold it for, emphasizing the temporary nature of a sensation. The invitation with Trauma Center, Trauma Sensitive Yoga is that you are welcome to make your way out of a shape at any time, for any reason. It is also welcomed to change or modify a shape, and even to leave the room if one feels that they want or need to. This provides a practitioner an opportunity to regain a sense of control over their bodies. It fosters the regulation of one's emotions and nervous system by cultivating a sense of awareness of their body's sensations, from which they can take effective action to respond to their body's needs.
The practice of yoga is meant to be sustained for a lifetime, so this practice can continue to support the person living with substance use disorder beyond treatment, which typically only lasts for 60-90 days (remember that brain functioning in the addicted person is affected for months and even years post-abstinence). Yoga has shown to be effective for people who have not found relief from their symptoms even after years of conventional, talk-based therapies (van der Kolk, 2014). This practice requires little to no equipment, is cost-effective, and can be done in the privacy of one's own home, or in a group setting.
Yoga creates a subtle, yet substantial shift. It provides within us the foundation that is needed to restore basic needs of safety and self-efficacy. It is a powerful tool for emotional regulation. It teaches one to rekindle a relationship with their body, to be present in their own living, breathing, human experience. It teaches us that sensations, emotions, and thoughts are transient; something that we can be curious about, learn from, and sit with. It integrates mind and body, paving the foundation for the fearful, fragmented experience of a trauma survivor to one that is safe, balanced, and to finally, feel whole again.
1.) Aalast, J., Ceccarini, J., Demyttenaere, K., Sunaert, St., Van Laere, K. (2020, July 08). What Has Neuroimaging Taught Us on the Neurobiology of Yoga? A Review. Frontiers in Integrative Neuroscience. https://doi.org/10.3389/fnint.2020.00034
2.) Afifi, T. O., Henriksen, C. A., Asmundson, G. J., & Sareen, J. (2012). Childhood maltreatment and substance use disorders among men and women in a nationally representative sample. Canadian journal of psychiatry. Revue canadienne de psychiatrie, 57(11), 677–686. https://doi.org/10.1177/070674371205701105
3.) Australian Government Department of Health. (2004). Models that Help us Understand AOD use in Society. https://www1.health.gov.au/internet/publications/publishing.nsf/Content/drugtreat-pubs-front5-wk-toc~drugtreat-pubs-front5-wk-secb~drugtreat-pubs-front5-wk-secb-3~drugtreat-pubs-front5-wk-secb-3-4
4.) Behere, R. V., Muralidharan, K., & Benegal, V. (2009). Complementary and alternative medicine in the treatment of substance use disorders--a review of the evidence. Drug and alcohol review, 28(3), 292–300. https://doi.org/10.1111/j.1465-3362.2009.00028.x
5.) Bock, B. C., Fava, J. L., Gaskins, R., Morrow, K. M., Williams, D. M., Jennings, E., Becker, B. M., Tremont, G., & Marcus, B. H. (2012). Yoga as a complementary treatment for smoking cessation in women. Journal of women's health (2002), 21(2), 240–248. https://doi.org/10.1089/jwh.2011.2963
6.) Cadet, J. L., Bisagno, V., & Milroy, C. M. (2014). Neuropathology of substance use disorders. Acta neuropathologica, 127(1), 91–107. https://doi.org/10.1007/s00401-013-1221-7
7.) Farb, N., Daubenmier, J., Price, C. J., Gard, T., Kerr, C., Dunn, B. D., Klein, A. C., Paulus, M. P., & Mehling, W. E. (2015). Interoception, contemplative practice, and health. Frontiers in psychology, 6, 763. https://doi.org/10.3389/fpsyg.2015.00763
8.) Gearon, J. S., Kaltman, S. I., Brown, C., & Bellack, A. S. (2003). Traumatic life events and PTSD among women with substance use disorders and schizophrenia. Psychiatric services (Washington, D.C.), 54(4), 523–528. https://doi.org/10.1176/appi.ps.54.4.523
9.) Gothe, N. P., Hayes, J. M., Temali, C., & Damoiseaux, J. S. (2018). Differences in Brain Structure and Function Among Yoga Practitioners and Controls. Frontiers in integrative neuroscience, 12, 26. https://doi.org/10.3389/fnint.2018.00026
10.) Heffernan, K., Cloitre, M., Tardiff, K., Marzuk, P. M., Portera, L., & Leon, A. C. (2000). Childhood trauma as a correlate of lifetime opiate use in psychiatric patients. Addictive behaviors, 25(5), 797–803. https://doi.org/10.1016/s0306-4603(00)00066-6
11.) Herman, J. (2015). Trauma and Recovery. Basic Books.
12.) Khalsa, S. B., Khalsa, G. S., Khalsa, H. K., & Khalsa, M. K. (2008). Evaluation of a residential Kundalini yoga lifestyle pilot program for addiction in India. Journal of ethnicity in substance abuse, 7(1), 67–79. https://doi.org/10.1080/15332640802081968
13.) Khantzian, E.J. (2017, February 21). The Theory of Self-Medication and Addiction. Psychiatric Times. https://www.psychiatrictimes.com/view/theory-self-medication-and-addiction
14.) Lee, R. S., Oswald, L. M., & Wand, G. S. (2018). Early Life Stress as a Predictor of Co-Occurring Alcohol Use Disorder and Post-Traumatic Stress Disorder. Alcohol research : current reviews, 39(2), 147–159.
15.) Miller, D., Miller, M., Blum, K., Badgaiyan, R. D., & Febo, M. (2015). Addiction Treatment in America: After Money or Aftercare?. Journal of reward deficiency syndrome, 1(3), 87–94. https://doi.org/10.17756/jrds.2015-015
16.) NIDA. 2020, July 10. Drugs and the Brain. Retrieved from https://www.drugabuse.gov/publications/drugs-brains-behavior-science-addiction/drugs-brain on 2021, February 12
17.) Ouimette P, Brown PJ. Trauma and substance abuse: Causes, consequences, and treatment of comorbid disorders. Washington, DC: American Psychological Association; 2003.
18.) Pirard, S., Sharon, E., Kang, S. K., Angarita, G. A., & Gastfriend, D. R. (2005). Prevalence of physical and sexual abuse among substance abuse patients and impact on treatment outcomes. Drug and alcohol dependence, 78(1), 57–64. https://doi.org/10.1016/j.drugalcdep.2004.09.005
19.) Saoji A. A. (2016). Yoga: A Strategy to Cope up Stress and Enhance Wellbeing Among Medical Students. North American journal of medical sciences, 8(4), 200–202. https://doi.org/10.4103/1947-2714.179962
20.) Tucci, A. M., Kerr-Corrêa, F., & Souza-Formigoni, M. L. (2010). Childhood trauma in substance use disorder and depression: an analysis by gender among a Brazilian clinical sample. Child abuse & neglect, 34(2), 95–104. https://doi.org/10.1016/j.chiabu.2009.07.001
21.) Ullman, S. E., Relyea, M., Peter-Hagene, L., & Vasquez, A. L. (2013). Trauma histories, substance use coping, PTSD, and problem substance use among sexual assault victims. Addictive behaviors, 38(6), 2219–2223. https://doi.org/10.1016/j.addbeh.2013.01.027
22.) van der Kolk, B. (2014). The Body Keeps the Score. Penguin Books.
23.) Vedamurthachar, A., Janakiramaiah, N., Hegde, J. M., Shetty, T. K., Subbakrishna, D. K., Sureshbabu, S. V., & Gangadhar, B. N. (2006). Antidepressant efficacy and hormonal effects of Sudarshana Kriya Yoga (SKY) in alcohol dependent individuals. Journal of affective disorders, 94(1-3), 249–253. https://doi.org/10.1016/j.jad.2006.04.025
24.) Volkow, N. D., Fowler, J. S., & Wang, G. J. (2003). The addicted human brain: insights from imaging studies. The Journal of clinical investigation, 111(10), 1444–1451. https://doi.org/10.1172/JCI18533
References are for all six parts of this series. The series in its entirety was my final project for the completion of the TCTSY 300 hour certification program. The entire series/final project was reviewed by my supervisor in the program. She is a licensed trauma therapist, and TCTSY-facilitator.
Copyright © 2020 Erin Finck. All Rights Reserved.
Photo by @marcobian