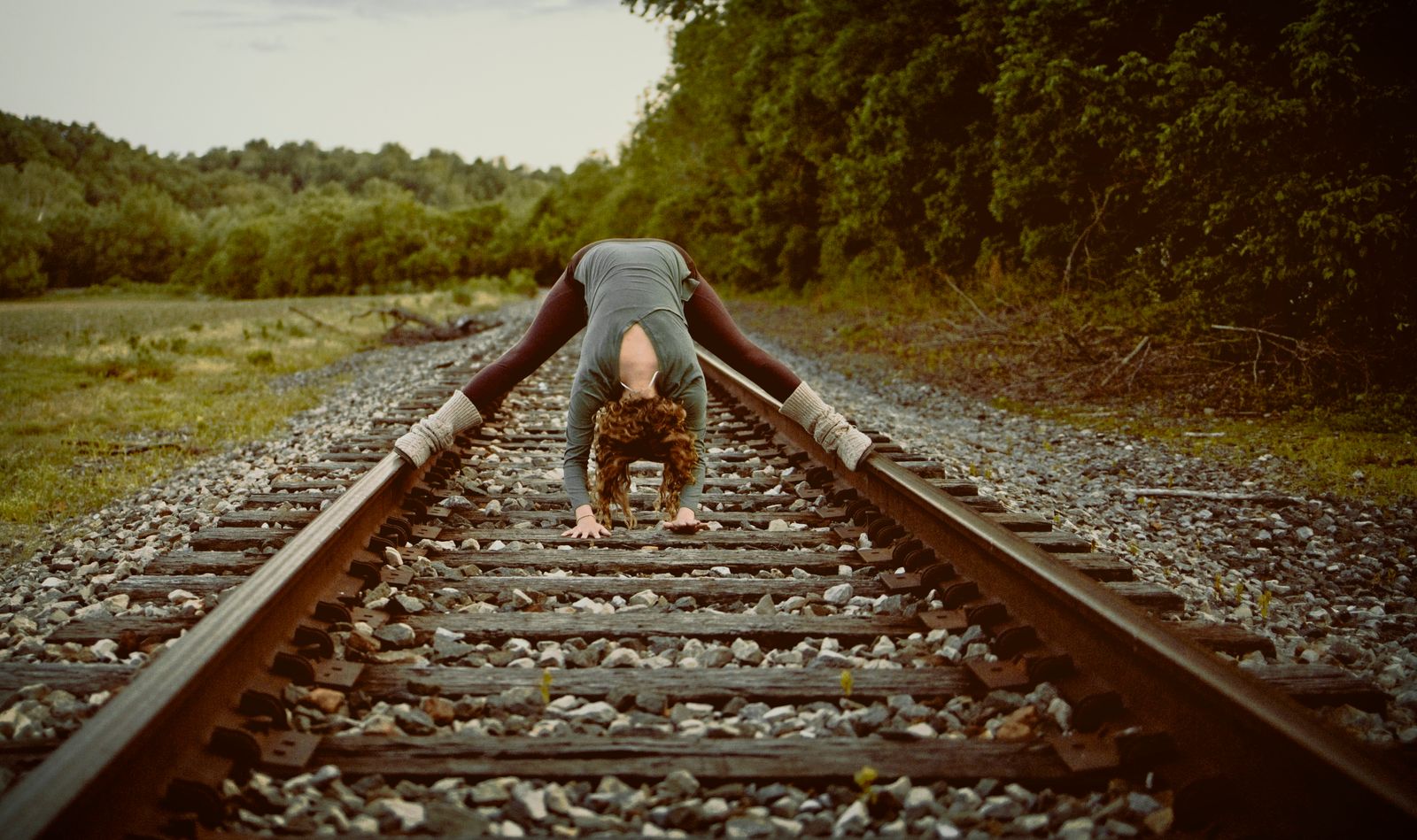 I wanted to share this story with anyone who might be interested in knowing more about me and why I do what I do.
I've been interested in yoga ever since I was a child and can't explain why. I didn't know anyone who had done it before. I hardly knew what it was. I started taking yoga classes when I was too young to drive, and I continued to attend classes off and on ever since.
My practice was different, then. Disembodied. It was very much a cognitive experience and very little an experience of being. Even though I was physically doing the postures, I was mentally somewhere else. It was like that for years.
I didn't become a regular practitioner until around 2011, when a ruptured disc in my spine left me uselessly horizontal for most of my free time, and the doctors offered me a giant bottle of pills as a solution. When I asked if there was anything I could do to fix it, he shrugged and said there were some stretches. I was given a packet of poorly illustrated drawings. I immediately recognized those drawings as yoga, and so my attendance at yoga classes became regular. It took months. Years, maybe - but as long as I kept practicing, the pain slowly but surely became manageable.
I started to notice that yoga was having an effect on me in other ways. I didn't seem to have as much anxiety. I had a greater sense of wellbeing. It was subtle. Almost like the tiniest seed in the back of my mind began to grow, and a budding curiosity made me begin to wonder if it was the yoga that was making me feel better.
It might be a good time to mention that depression has run in my family for generations. I was diagnosed with chronic, recurrent, major depression and insomnia. I was nine years old when my condition started. Nothing worked. Nobody knew what to tell me. I was hopeless.
One day my two year old daughter asked me if I was happy. I tried to assure her I was, but I could tell that she didn't believe me. I silently promised her that day that I would learn how to be happy. That little seed in the back of mind started to grow, and I knew that I had to dedicate myself to the practice.
My yoga practice went from once a week, to twice, three times, then every day. I understood the physical postures. I thought that this was what the practice was about-- perfecting the posture. I began to become aware of my mind racing at the end of class, in Savasana. I wanted to learn more about the meditative aspects of the practice.
So I began to read books about yoga, pranayama, meditation, and spirituality. It was through all of this reading that I learned to see the world, my mind, and life itself very differently.
And then tragedy struck. In 2014, within a matter of three months, I lost everyone who was close to me-- through divorce, suicide, and moving away. It was like the tablecloth of my life had been ripped out from underneath me, broken into pieces I had no idea how to put back together again.
About a year after all of that, I lost someone I was engaged to at one time in my life from an overdose.
A year after that, I lost someone who had been my best friend for well over a decade, also to overdose.
I don't know how I would've survived this time of my life without my yoga practice. It was around this time that I began to wonder why this practice wasn't in mental health and substance abuse settings. Why hadn't they given me any tools, resources, or practices, for taking care of myself? What if my loved ones had the chance to practice this? Could it have helped?
I started to travel. I took with me two small bottles of the ashes of two of my loved ones and a picture of my friend. I went on nature retreats, yoga retreats, hiking retreats, meditation retreats. I travelled all over the country to see waterfalls, to hike, to explore caves, to climb mountains, to sit in coffee shops and scribble in my journal or read one of my books.
Everywhere, I was alone, and always, my lost loved ones were with me.
I became somewhat of a yoga connoisseur. I took all different types of classes from all different types of teachers in all different types of settings, all over the country. Gentle yoga, power yoga, hatha yoga, laughter yoga, aerial yoga, acro yoga, yoga nidra, sekoia yoga, yin yoga, vinyasa, dancing yoga, bhakti yoga, etc., ad infinitum. I visited a variety of meditation centers, spiritual events, and a handful of non-religious churches.
It was during one of the meditation retreats that it came to me to become a yoga instructor. I'm not sure how to describe what "came to me" meant. It was like it was implanted into my brain. It wasn't something I had ever considered doing before, but it's like there wasn't any question of becoming an instructor or not. It was just like, "okay, I have to do this." It wasn't up for debate.
I also "knew" that the reason behind becoming an instructor was to get the practice in mental health settings; in crisis centers, hospitals, inpatient, outpatient, criminal justice settings, settings for veterans, for people experiencing homelessness and/or substance abuse disorders, people who have experieced domestic or sexual abuse, anywhere that was set up for people who were suffering.
I completed the 200 hour yoga teacher training in Athens with Michelle Stobart in 2018 and began teaching at Bodhi Tree. I couldn't, and still can't, get enough training, and I continue to read book after book. I signed up for the full, 300 hour Trauma Center Trauma Sensitive Yoga the day the application window opened in March of 2020. I completed the program in March of 2021. I am currently enrolled in a Trauma Sensitive Mindfulness training.
I finally feel like I am fulfilling my purpose. I hope, so much, that I can fulfill this role in a way that is deserving, supportive, and worthwhile for the participants. I have never cared about doing anything so deeply before. I cannot imagine doing anything else with my life.